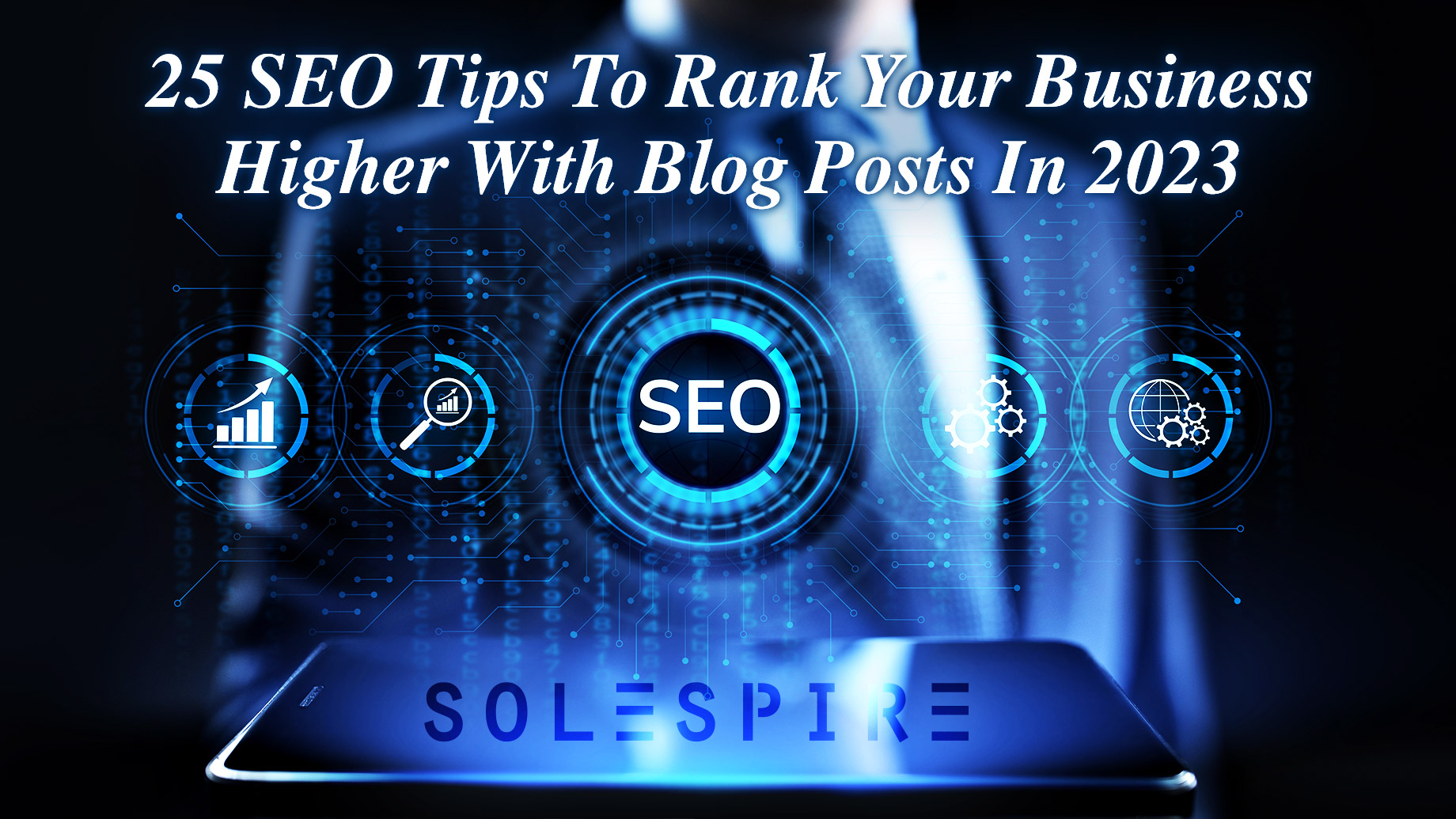 As a business owner, you likely understand the importance of search engine optimization (SEO) for driving traffic to your website and boosting your online presence. One effective way to improve your SEO is by creating and publishing high-quality blog posts and niche articles on your website. At Solespire, content publishing SEO is the main driving force that excels our serviced clients and customers with successful outcomes.
The world of SEO is constantly evolving. There's Google, Bing, Yahoo, DuckDuckGo, and so forth, but did you know there is also Yandex, Qwant, Startpage, and Brave Search? As a digital media creator and webmaster, you need to know about every search engine and the various ways you can climb the ranks on each one, in order to succeed online. Thus, it's important to stay up-to-date on the latest search engine optimization strategies and techniques.
Building on top of our 25 best SEO tips for business in 2022, here is an updated list of 25 SEO tips to help you rank your business higher with blog posts in 2023:
Conduct keyword research to identify the terms and phrases your target audience is searching for.
Include your target keywords in the title and throughout the body of your blog post.
Use long-tail keywords, which are more specific and less competitive, to improve your chances of ranking.
Optimize your blog post's URL by including your target keywords.
Use header tags (H1 for the title, H2 for body headings, H3 for subheadings, etc.) to organize and structure your content.
Add meta descriptions to your blog posts, which are short summaries that appear in search engine results.
Use internal linking to connect your blog posts to other pages on your website.
Include external links to high-quality, authoritative websites to improve your credibility and boost your ranking.
Optimize your images by including ALT text and descriptive file names.
Use social media to promote your blog posts and drive traffic to your website.
Create a sitemap to help search engines easily index and crawl your website.
Use Google Analytics to track the performance of your blog posts and identify areas for improvement. Better yet, use Fathom Analytics for tracking web visits, without compromising the privacy of your site's visitors.
Create high-quality, valuable content that provides value to your audience and addresses their needs and pain points.
Use descriptive, compelling titles that grab the reader's attention and entice them to click on your blog post.
Optimize your blog post's loading speed to improve user experience and reduce bounce rate.
Include keywords in your blog post's meta tags, including the title tag and meta description.
Use schema markup by adding structured data, using RDFa, Microdata, or JSON-LD encodings in HTML code, in order to provide search engines with additional information about your content. This helps search engines understand the content on your website, and can assist the likes of Google or Bing in creating rich snippets, directly from your content.
Optimize your blog post's structure by including subheadings, bullet points, and numbered lists.
Use social sharing buttons to make it easy for readers to share your blog post on their social media channels.
Utilize SEO tools, such as keyword research tools, to help you identify the best keywords to target.
Create a content marketing strategy to help you plan and organize your blog posts, articles, pages, and other content.
Encourage user engagement by asking for comments and feedback on your blog post. If you don't have a comments section, then encourage comments to your posts on social media.
Use SEO-friendly permalinks to improve your ranking and make it easier for search engines to index your blog post.
Include a call-to-action (CTA) at the end of your blog post to encourage readers to take the next step, such as signing up for your email list or purchasing a product.
Monitor and track your SEO performance with SEO tools to identify areas for improvement and ensure you are reaching your goals.
The global SEO market size is expected to reach over $122 billion by 2028. By implementing these 25 SEO tips, you can improve your ranking, drive more traffic to your website with your SEO-friendly blog posts, and effectively become part of the SEO market economy that collectively generates billions of dollars annually. Keep in mind that SEO is a long-term strategy, so be patient and consistent in your efforts to see the best results.