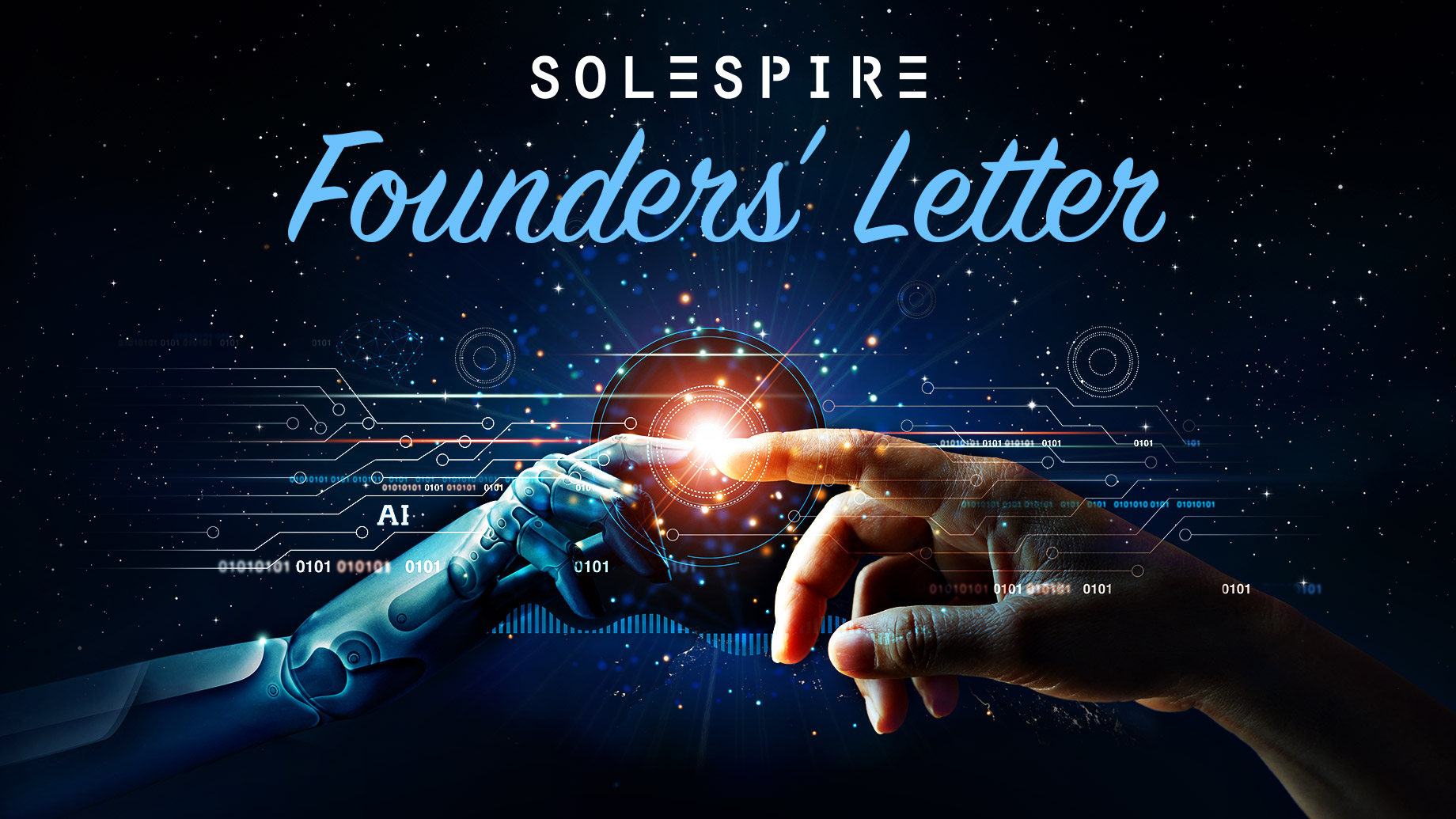 As we reflect on another extraordinary year at Solespire, I am struck by a quote from Henry Ford that encapsulates our journey as a team:
"Coming together is a beginning; keeping together is progress; working together is success."
Since the inception of Solespire Media Inc. in 2017, our team's shared passions and determination have been the catalysts for our company's growth and success. In this regard, we resonate with Steve Jobs' insight that "the only way to do great work is to love what you do."
At Solespire, our team embodies that philosophy, enthusiastically fostering innovation, pushing boundaries, and upholding our vision of cultivating a workplace that nurtures creative minds. Each member of our team is an engaged, proactive self-starter, taking pride in their work and passionately propelling our company and diverse portfolio of brands, websites, products, services, and content to the forefront of an ever-evolving digital landscape.
Drawing inspiration from Michael Jackson's advice to "study the greats and become greater," we have turned to visionary leaders like Bill Gates and the late Steve Jobs for insights on anticipating technological advancements that can transform the way we work. After all, both Jobs and Gates played pivotal roles in multiple technological revolutions.
The Past Inspires The Future
As co-founder of Microsoft and a pioneer of the personal computer (PC) revolution, Gates played a significant role in making computers accessible and affordable to the masses. Through Microsoft, he developed operating systems like MS-DOS and Windows, which became the foundation for the majority of PCs around the world in the 1990s. This built upon the pioneering work of Steve Jobs and Steve Wozniak, who popularized personal computing with the release of the Apple II in 1977, followed by Jobs leading the ambitious launch of the Macintosh in 1984—effectively embedding desktop computers in American homes.
Jobs and Gates, often seen as rivals in the tech sphere, brought complementary strengths to the table. While Gates' contributions shaped the software ecosystem that powered the PC revolution, Jobs focused on designing and popularizing user-friendly hardware and devices. Under his forward-thinking leadership, Apple introduced groundbreaking products like the Mac, iPod, iPhone, and iPad, forever altering our lives with products that revolutionized the way we not only interact with technology, but also how we create and consume digital content.
Jobs' emphasis on user experience and design thinking left a lasting impression on the tech industry. Meanwhile, Gates' influence reached beyond PCs, as he played a vital role in the Internet revolution. With the launch of Internet Explorer, Microsoft helped democratize the web, enabling users to connect, share, and access information like never before. Recognizing the Internet's potential, Gates led Microsoft to become a key player in shaping the digital landscape.
Embracing AI
We currently find ourselves at the cusp of yet another technological revolution, fueled by rapid advancements in artificial intelligence (AI). Gates recently wrote about how the age of AI has begun, expressing his enthusiasm for how AI will positively transform our lives and create new opportunities. In the spirit of the PC, Internet, and smart-device revolutions, Solespire is dedicated to harnessing AI's power for the betterment of society, aligning with Gates' vision of a world where technology empowers everyone. By utilizing AI to produce more engaging, informative, and relevant content, Solespire is not only propelling the digital media industry forward, but also ensuring the benefits of this new revolution reach all.
In 2023, one of the most significant innovations we have embraced is the integration of Microsoft 365 Copilot for all Solespire employees, aimed to unleash creativity, unlock productivity, and uplevel skills. We have also incorporated Bing Chat and ChatGPT into our daily operations. These cutting-edge AI tools, available through the Microsoft Edge web browser and OpenAI's API, enable us at Solespire to more effectively brainstorm, collaborate, draft copy, co-create, and publish articles, social media posts, send emails, and design materials for content marketing and advertising.
Gates elaborated in his blog post, "When productivity goes up, society benefits because people are freed up to do other things, at work and at home."
At Solespire, we envision AI as an invaluable co-pilot, streamlining our processes and augmenting our capabilities in novel ways. We have already started reaping the rewards of AI in our daily work, boosting our productivity. Our team remains curiously optimistic about the untapped potential that awaits. While we at Solespire view this moment as a critical juncture for humanity to accomplish tasks more quickly and efficiently, some still hesitate to integrate AI into their workflows for various reasons.
Augmenting Human Capabilities
Do you remember the Pascaline? I don't either, because it was invented before my time as the first mechanical calculator by French mathematician Blaise Pascal in 1642. Capable of performing addition and subtraction, the Pascaline was a groundbreaking device for its time. However, if society had dismissed the Pascaline as a threat to humanity—similar to Elon Musk's warning that "AI is a fundamental risk to the existence of human civilization"—we wouldn't have progressed towards the first handheld electronic calculators introduced by Texas Instruments in 1967.
Both AI technology and the calculator represent significant milestones in developing tools that augment human capabilities. Although calculators and AI serve different purposes, they share a common goal: enhancing human problem-solving and decision-making abilities.
Since its inception, the calculator has been an invaluable tool for executing arithmetic operations more quickly and accurately than by hand. It has profoundly impacted various fields, including science, engineering, finance, and education. The calculator simplified complex calculations, reduced human errors, and saved time, allowing individuals to concentrate on higher-level tasks and ideas.
In contrast, AI technology is far more advanced and versatile than the calculator. AI systems can learn from vast amounts of data, recognize patterns, and make decisions based on intricate algorithms. While calculators are confined to arithmetic operations, AI has the potential to address a wide array of challenges, encompassing natural language processing, computer vision, and decision-making in complex environments.
AI: The New Bicycle For Our Minds
We regard large language models (LLMs) and AI chatbots like ChatGPT as the next step up from the calculator, similar to how Steve Jobs compared the computer to a bicycle for our minds, during a 1990 interview for the documentary film "Memory & Imagination: New Pathways to the Library of Congress."
Jobs recounted a study measuring the efficiency of locomotion for various species, where humans ranked rather unimpressively. However, when a man on a bicycle was tested, the results far surpassed all other species, including the condor. Jobs considered the computer a remarkable tool, and thus equated it to a bicycle for our minds.
In this analogy, Jobs highlights how a simple tool like a bicycle can dramatically improve our performance, suggesting that computers have the potential to amplify human intellect and creativity similarly.
Today, Jobs' "bicycle for our minds" concept can be applied to artificial intelligence. AI is already enhancing human intelligence, creativity, and problem-solving, much like personal computers did in the past. The synergy between humans and AI will lead to new discoveries, innovations, and advancements, becoming an extension of our minds and helping us overcome cognitive limitations.
Companies are building on top of the foundation of visionaries like Steve Jobs and Bill Gates, integrating AI it into their products and services to create more robust, intuitive, and personalized user experiences. Solespire, a leader in the digital media and technology space, has been at the forefront of the new media era of Web 2.0 and the semantic big data era of Web 3.0 (not to be confused with "Web3," a buzzword used by cryptocurrency enthusiasts), with our innovative Multiplex platform, built on top of WordPress. By incorporating AI-driven technologies and automation tools, Solespire is dramatically shifting its internal processes for content creation, curation, and delivery—ushering in a new era with Web 4.0, powered by artificial intelligence with an always-on symbiotic web.
Solespire: A Fusion of Creativity and Technology
At the heart of Solespire lies a diverse group of wildly creative individuals with unique perspectives and interests. This diversity enables us to establish brands that cater to specific niches, each striving to produce exceptional content that inspires and captivates our senses. Our commitment to creating high-quality, memorable content is evident in projects like The Pinnacle List video of cosmetics mogul François Nars' Motu Tane private island residence in Bora Bora, French Polynesia, in conjunction with Bob Hurwitz of Hurwitz James Company. We carry that dedication into our work for clients like Debra Johnston, a top luxury real estate agent in Atlanta, who subscribes to Solespire for concierge social media account management and promotional services.
Our mission is to elevate all our brands and sites, transforming them into top-tier trusted sources within niche categories. This is achieved by constantly refining our Multiplex algorithms with advanced search engine optimization (SEO) strategies, effectively enhancing search engine results page (SERP) rankings, domain authority (DA) scores, and domain ratings (DR). At Solespire, we believe everyone has a story to tell. By combining our technological advancements with the art of storytelling, we provide the optimal publishing platforms to engage, broadcast, and promote your content to dedicated, affinity-focused audiences.
Embracing advanced web technologies and AI, we persistently innovate and adapt with new tools to create meaningful digital content that connects people. Our expertise in design thinking, complex ideation, and breakthrough innovation has allowed us to build a network of niche-focused content publishing platforms that offer unparalleled content marketing, advertising solutions, and promotional services for users, customers, clients, and partners of Solespire.
Solespire's Progress and Achievements
Our web analytics reveal remarkable year-over-year growth across all our websites, collectively showing a +312% increase in visitors and a +362% rise in pageviews. This success is a testament to our team's hard work and dedication. Meanwhile, our YouTube channels have accumulated 8.17 million views and 38K subscribers, as our social accounts on Facebook, Instagram, Twitter, Pinterest, LinkedIn, VK, and Telegram boast over 3 million followers.
Solespire's digital media brands and sites are designed to scale, while delivering top-notch, niche-focused content, tailored to build loyal audiences. We are proud of our progress but recognize there is still much more to achieve.
The Pinnacle List
In the coming months, The Pinnacle List will launch a new Membership subscription program for luxury real estate agents. This will let agents join the revamped Registry and publish listings in the recently relaunched Luxury Real Estate section. This expansion reflects the brand's growing impact on the industry, which now reaches audiences in English, French, Italian, Russian, and Ukrainian via language-specific sites. The Pinnacle List continues to be Solespire's hero brand – our top brand in every key metric.
TRAVOH
In 2022, TRAVOH experienced impressive growth on YouTube, reaching 11.7K subscribers. We plan to create more original content across North America and Europe to expand the channel's growth and supplement the website with articles related to our YouTube videos. As the TRAVOH brand continues to thrive, we remain committed to providing valuable travel insights and experiences in multiple languages.
ReelLuxe
ReelLuxe, relaunched last year, saw a surge in traffic and advertising revenue. The integration of AI copilots has allowed us to invest more resources into ReelLuxe, which we believe will become one of Solespire's top global brands. We will continue refining and expanding our multimedia content offerings, including launching a YouTube channel, ensuring that ReelLuxe consistently delivers the highest quality content for audiences across several languages.
MD5 Gaming
Once a YouTube-exclusive brand, MD5 Gaming expanded its online reach in 2022 with a successful website launch, focusing on video games and related entertainment. With impressive web analytics and content publishing profits that surpassed our expectations, we plan to invest further in MD5 Gaming, creating engaging content and fostering a thriving community of gamers and enthusiasts, supported by our dedicated team and AI copilots.
BuyRIC
In last year's first annual founders' letter, I highlighted the value of focus and nurturing ideas with great potential. Guided by the entrepreneurial journey shared by Kris Cyganiak and me, we made the strategic decision in 2022 that we need to revamp and relaunch BuyRIC, confident that the eventual relaunch will yield tremendous results.
As we forge ahead in our pursuit of excellence, we have been deliberate in our approach to relaunching BuyRIC. We have taken lessons from past experiences to heart, ensuring that we are building rewarding revenue channels and avenues for sustainable brand development. To that end, we have undergone corporate restructuring, spinning off BuyRIC from being a Solespire brand to incorporating it as BuyRIC Real Estate Inc., a Solespire company. This change enables us to concentrate our efforts and resources, aiming to revolutionize the real estate industry, beginning in Vancouver, British Columbia, Canada.
The formation of BuyRIC Real Estate Inc. reflects the foresight and analytical sense of reason mentioned in last year's letter. We remain steadfast in our vision and focused on our core objectives, eager to see the impact of the new BuyRIC on the market. We look forward to sharing BuyRIC's progress with the Solespire community and continuing to grow both companies with the same dedication and strategic thinking that has brought us this far, thus far.
The Future of Solespire: Embracing AI and Innovation
As we venture into the future, Solespire remains committed to pushing the boundaries of what is possible, harnessing the power of AI and other emerging technologies to transform the way we work and the value we deliver. We will navigate this new frontier with responsibility and transparency.
Even with the advent of AI, we continue to believe in people and their potential. Instead of allowing AI to replace our roles, we focus on utilizing AI to augment our positions as digital creators. By responsibly and transparently leveraging AI, we can enhance our digital creations, uphold our core values, and contribute to shaping a future where technology and humanity coexist harmoniously.
Empowered by artificial intelligence, Solespire merges technology with human ingenuity, igniting our unrelenting curiosity and propensity to surpass ordinary expectations. Through extraordinary vision, revolutionary ideas, and exceptional leadership, Solespire innovates and evolves, elevating our team's capabilities to produce the highest quality work that we can take immense pride in.
Reflecting on the progress we have made since Solespire's inception six years ago, we are truly proud, and you all inspire us with your incredible support.
Marcus Anthony
Co-Founder & CEO