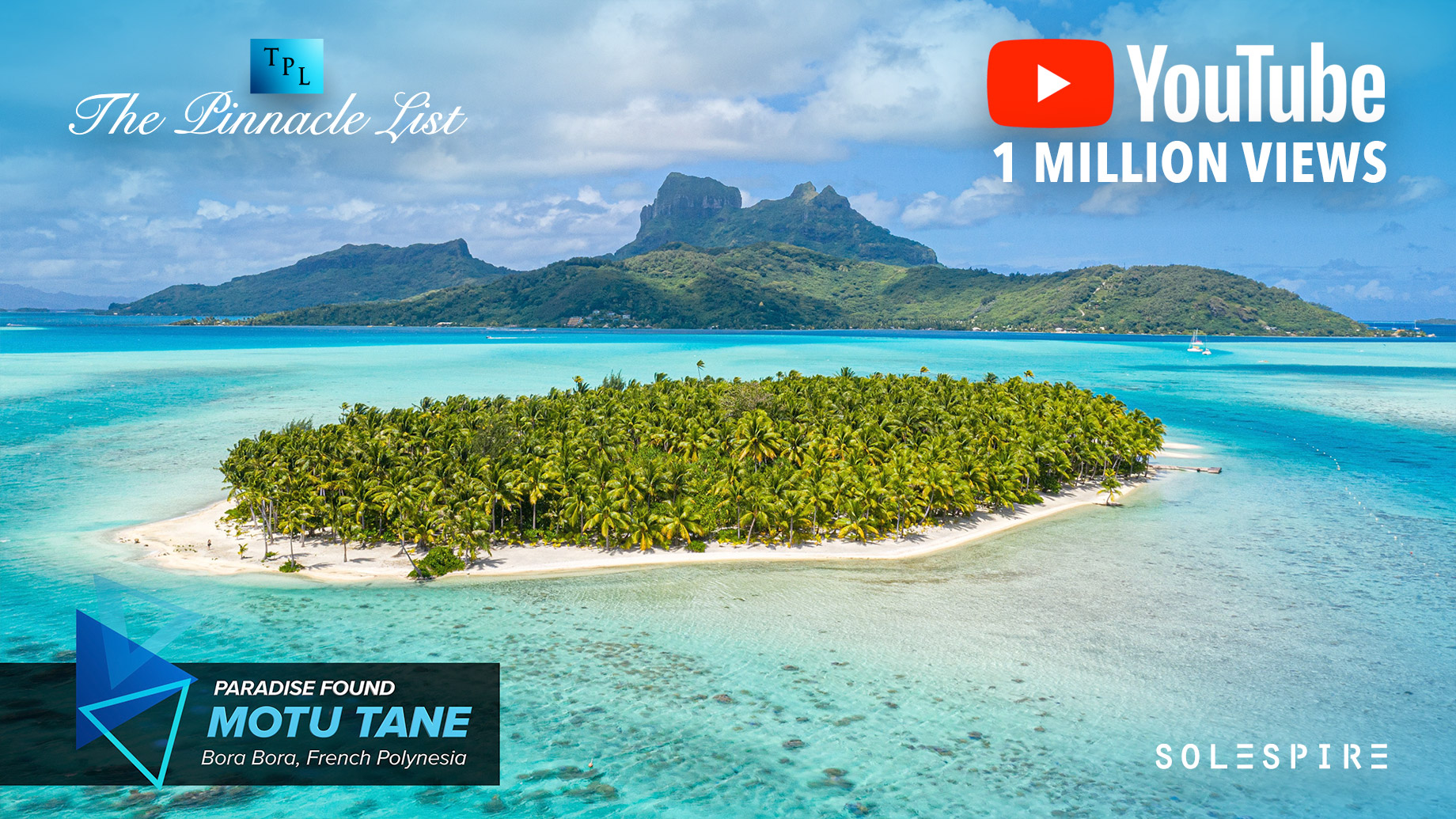 Solespire is celebrating the company's first video to reach 1 million views, with Paradise Found at Motu Tane, on The Pinnacle List YouTube Channel. The 67-minute long-form video presentation has drawn international viewership acclaim from 126 countries, as the top 10 countries include the United States, Canada, Germany, United Kingdom, India, Italy, Brazil, France, Russia, and Australia.
"Based on our incredible success together in the past, The Pinnacle List was absolutely the right team to task with capturing the true essence of Motu Tane," said Bob Hurwitz, Founder and CEO of Hurwitz James Company. "Utilizing a variety of cameras and equipment for multiple scenes and perspectives, I saw this elite team work seamlessly together to create unquestionably the best content for marketing any individual property I have ever represented. The achievement of reaching 1 million views is a testament to the entire team's hard work and determination to become one of the industry leaders of luxury real estate marketing."
Home to François Nars of NARS Cosmetics for over 20 years, Motu Tane is an exquisite representation of a private island oasis and the ultimate personification of tropical paradise living in Bora Bora, French Polynesia. Imagined by cosmetics mogul Nars, with an unwavering vision and a meticulous dedication to the legacy and heritage of authentic Polynesian culture, Motu Tane was remarkably realized in beautiful fashion, alongside the creative genius of legendary French designer Christian Liaigre.
"It was an immense honour to receive the unique privilege of presenting one of the most premier private island residences in the world," said Marcus Anthony, The Pinnacle List co-founder and President of Solespire. "Our team is beyond grateful to the nearly 20,000 subscribers who follow The Pinnacle List on YouTube, and to the millions of people who have watched our video vision of Motu Tane."
The long-form video features international listing agent Bob Hurwitz and Marcus Anthony touring the extraordinary private island, as they showcased the island's true status in being the pinnacle of ultra-luxury real estate without equal. As the mythical aura of Bora Bora surrounds Motu Tane in one of the most famous and recognizable locations on Earth, this property truly epitomizes the essence of tropical luxury living beyond magnificence.
The Pinnacle List produced and published this original video, with it being the first to reach 1 million views among all Solespire Media Brands.
To experience more of Motu Tane, extra bonus footage can be viewed on the TRAVOH YouTube Channel, with many walking tours, drone flyovers, underwater scenes, and so much more.
The Pinnacle List is the premier global luxury real estate brand, offering the most leading-edge and engaging full-service listing platform. ThePinnaceList.com is powered by Multiplex, an innovative modern media stack built custom for dynamically responsive content and advanced technologies, parented by Solespire Media Inc.